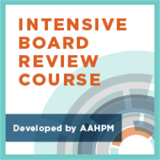 Study from your desktop, laptop or while on the go to prepare for the hospice and palliative medicine (HPM) subspecialty certification exam (ABMS/AOA) or to increase your knowledge in HPM and best clinical practices.
Category
Research/Quality Improvement
Pediatrics
Medical/Clinical Knowledge
Hospice
Core Content
Communication/Teamwork
Board Prep
Resilience and Well-Being
Credits

Hospice Physicians and Government Audits: Documentation, Risk Mitigation, and Advocacy is presented by K. Ellissa Tiller, M.D. FAAHPM, CPE and Hospice Attorney Bryan Nowicki. This activity is planned in the context of one or more of the ABMS/ACGME Competencies and focuses on the hospice audit process, who the auditors are, what they look for, and the key documentation that often drives audit results. The views expressed by Dr. Tiller during the presentation do not necessarily represent the view of the VA or the United States.
Category
Regulatory/Public Policy
Hospice
Credits
ABIM MOC
CME (physician only)
Participation