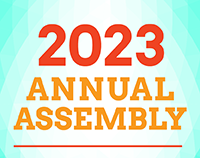 Assembly Highlight - Integrating Core Mental Health Competencies: A Growth Edge in Hospice and Palliative Care
*This recording is repurposed from the 2023 Annual Assembly
Many of the patients whom palliative care clinicians find the most challenging are experiencing mental health problems. These situations generate angst and distress among clinicians and may contribute to feelings of helplessness and burnout. In general, HPM training in communication has been strong, but our training in basic mental health issues falls short of what is necessary for clinical excellence. Most of our teams include social workers, who contribute many essential competencies to our teams, but psychologists, and psychiatrists are much less frequently involved. Yet, we are regularly confronted by complex situations in which understanding of how to create a sense of safety for the patient and family, adjust our approach to the developmental stage of the patient, conduct a focused  psychiatric assessment, identify core psychological issues (including psychological defenses, attachment, responses to loss, ambivalence, identity, dependency) that are affecting the patient's coping, and appreciating and managing the emotions faced by the team in caring for these patients are essential. These competencies are best taught by mental health clinicians, ideally those with palliative care background, as well.
Target Audience
Hospice Medical Directors
HPM Physicians
Nurses
Nurse Practitioners
Pharmacists
PAs
Learning Outcomes
In this presentation, we will reflect on the factors that make mental health issues challenging within the PC context, including the issues of stigma, lack of core knowledge, inadequate access to mental health expertise, and cultural differences (including the role of the culture of medicine in contributing to these deficits). We will focus on core mental health competencies that are of particular importance to non-mental health PC clinicians.  Opportunities for all PC programs to enhance learning of these basic mental health competencies during palliative care specialty training (and beyond) will be explored.
Disclosures 
AAHPM endorses the Accreditation Council for Continuing Medical Education (ACCME) Standards for disclosure and commercial support and endeavors to ensure balance, independence, objectivity, and scientific rigor for all accredited products or programs. All who are in a position to control or influence the content of an educational activity must disclose any relevant financial relationships with ineligible companies.*Disclosure documents were reviewed for potential conflicts of interest and, if identified, were resolved prior to confirmation of participation. Only those who had no conflict of interest or who agreed to an identified resolution process prior to their participation were involved in this activity.
All editors, faculty and staff have disclosed no relevant financial relationships.
*An ineligible company is defined as any entity producing, marketing, reselling, or distributing healthcare goods or services consumed by, or used on, patients. 
Faculty
Susan Block, MD
Staff
Leah Farfan, BA
Julie Tanner, BSN RN-BC CHPN
Angie Tryfonopoulos, BS
Theresa Nissen, BA
Laura Witt, MS-HSM
Julie Bruno, MSW LCSW
This recorded activity is a non-accredited learning resource. No CME or MOC is offered with this activity.