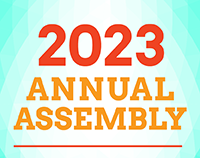 Assembly Highlight - Managing Anticoagulation for Atrial Fibrillation and Venous Thromboembolism on Hospice
*This recording is repurposed from the 2023 Annual Assembly
Venous thromboembolism (VTE), including deep vein thrombosis and pulmonary embolization, occurs in 1 and 1000 adults. Frequencies will likely increase with age, reduced mobility, and concurrent chronic illness such as heart failure or cancer. Research suggests that sudden asymptomatic death is a rare event occurring less than 10% of the time. Autopsy studies indicate that most patients experiencing thrombotic events such as pulmonary embolization have prolonged symptomatic deaths lasting on average of 2 hours dominated by symptoms such as dyspnea, tachycardia, and pain. Atrial Fibrillation affects 9% of persons over the age of 65, and many patients who enroll in hospice are on anticoagulation for AFib. The benefit of anticoagulation is unclear in a hospice population for both prophylaxis for atrial fibrillation and treatment for VTE. Current guidelines for managing venous thromboembolism and AFib do not apply to advanced illnesses. Developing approaches to facilitate decision-making for managing anticoagulation for AFib and thromboembolic disease in hospice patients is the goal of this session. An expert panel of palliative care physicians, hematologists, and pharmacotherapy specialists will present cases, didactic material, and engage the audience with the following goals: 
a. Discuss the mechanisms of action of currently available anticoagulants. 
b. Discuss the quality-of-life benefits associated with using use of anticoagulants in the hospice population.
c. Recognize potential drug interactions between anticoagulants and other prescribed medications at the end of life.
d. Recognize bleeding risk and learn how to manage bleeding associated with using anticoagulants at the end of life. 
e. Discuss communication approaches with patients and family when deprescribing anticoagulants 
f. Determine the optimal anticoagulant based on prognosis.
Target Audience
Hospice Medical Directors
HPM Physicians
Nurses
Nurse Practitioners
Pharmacists
PAs
Learning Outcomes
1. Understand the mechanisms of action of currently available anticoagulants and discuss primary prophylaxis of thrombosis in the hospice setting 
2. List the quality-of-life benefits of anticoagulation in the advanced patient population and discuss communication strategies with patients and families around deprescribing anticoagulation on hospice when appropriate
Disclosures 
AAHPM endorses the Accreditation Council for Continuing Medical Education (ACCME) Standards for disclosure and commercial support and endeavors to ensure balance, independence, objectivity, and scientific rigor for all accredited products or programs. All who are in a position to control or influence the content of an educational activity must disclose any relevant financial relationships with ineligible companies.*Disclosure documents were reviewed for potential conflicts of interest and, if identified, were resolved prior to confirmation of participation. Only those who had no conflict of interest or who agreed to an identified resolution process prior to their participation were involved in this activity.
All editors, faculty and staff have disclosed no relevant financial relationships.
*An ineligible company is defined as any entity producing, marketing, reselling, or distributing healthcare goods or services consumed by, or used on, patients. 
Faculty
Martina Meier, MD HMDBC - Lead Faculty
Eric Prommer, MD FAAHPM
Mary Lynn McPherson, PharmD MA MDE FAAHPM BCPS CPE
Rebecca Yamarik, MD MPH FAAHPM
Staff
Leah Farfan, BA
Julie Tanner, BSN RN-BC CHPN
Angie Tryfonopoulos, BS
Theresa Nissen, BA
Laura Witt, MS-HSM
Julie Bruno, MSW LCSW
This recorded activity is a non-accredited learning resource. No CME or MOC is offered with this activity.