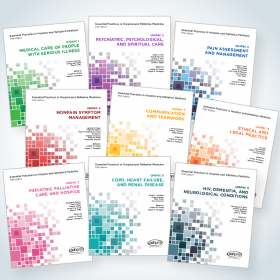 Essentials Book Set (includes books 1-9)
Essential Practices for Hospice and Palliative Care, 5th Edition (previously named the UNIPAC series) is the foundational resource for hospice and palliative care professionals. This popular, comprehensive 9-volume self-study tool provides a critical foundation for healthcare providers who want to incorporate the principles of hospice and palliative medicine into their practice. This 5th edition was thoroughly reviewed and updated by experts in the field to bring you the latest knowledge and practices.
No CME credits available for each book.
You can also purchase the Essentials Book Set PLUS the Learning Modules and save on the bundle.
Product Details
The Essentials book set includes all 9 volumes. To purchase an individual book only, click on the desired book link below.